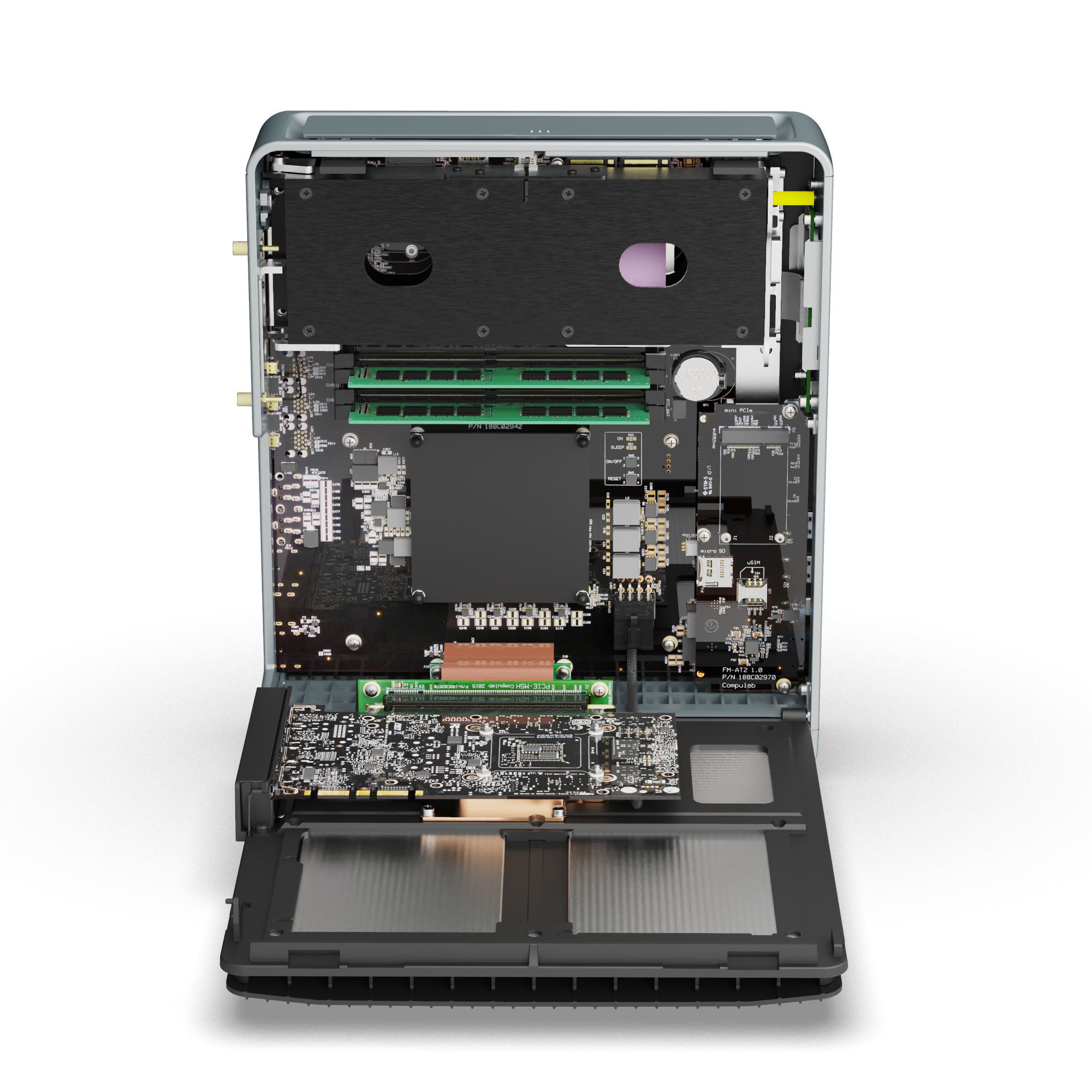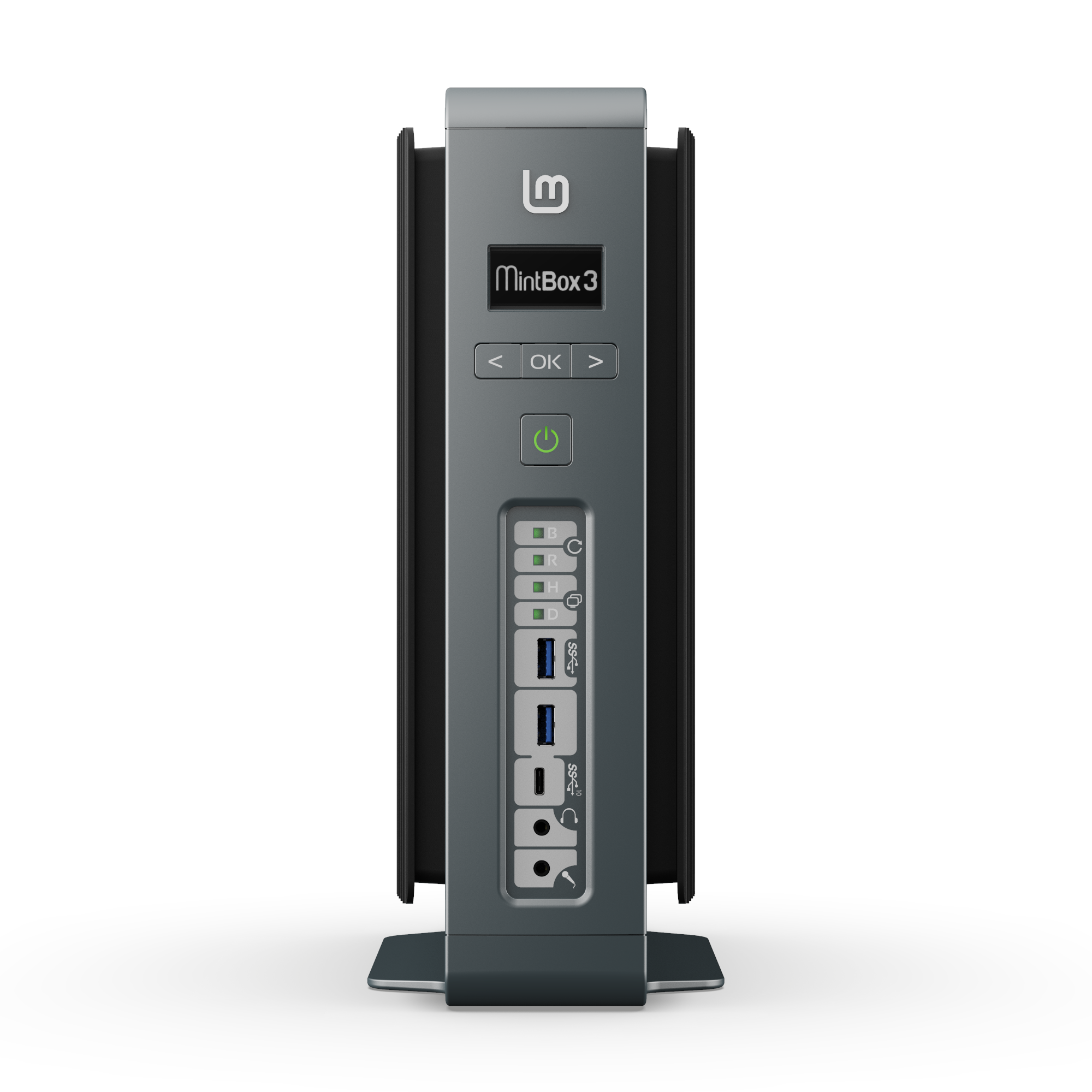 Best-in-class
user experience
MintBox3 is a version of Compulab Airtop3 customized to deliver the best possible desktop Linux experience. High-end CPU coupled with a powerful discrete GPU, high memory capacity and fast NVMe SSD ensure quick loading and excellent responsiveness of the user-friendly Cinnamon desktop environment.
The small footprint of MintBox3, silent cooling, aesthetic all-metal industrial design and accessible I/O ports allow for a convenient, distraction-free use.
The high performance of MintBox3 is beneficial for productivity of developers and artists where high computational workloads and graphics intensive tasks are involved.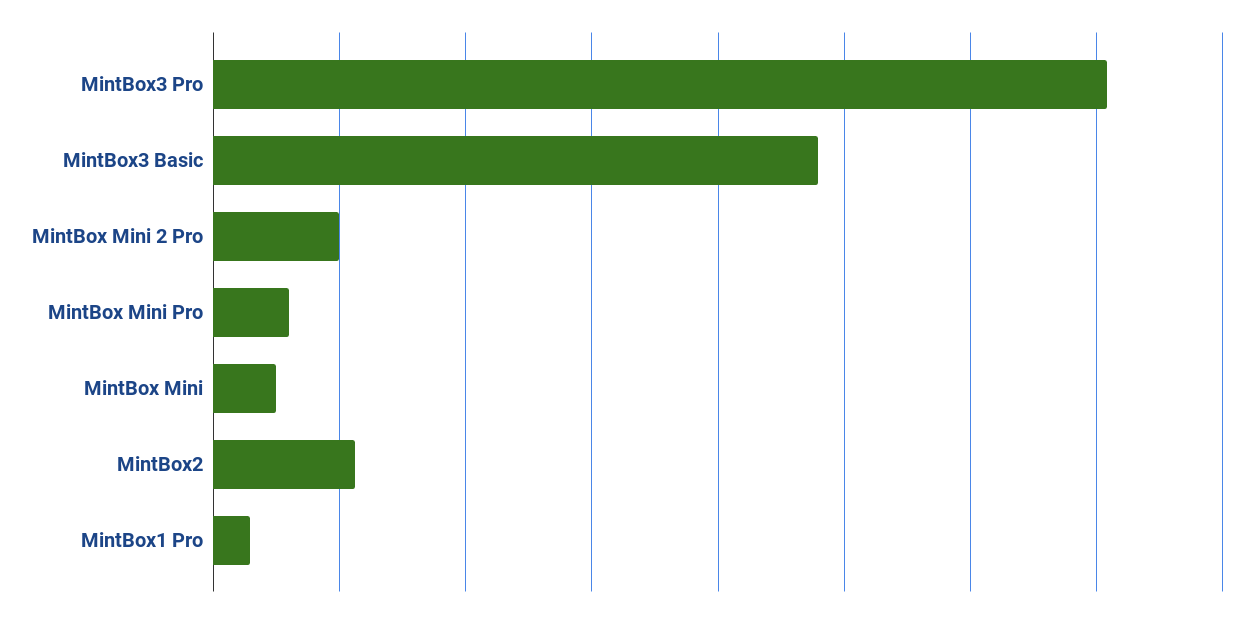 Relative Geekbench performance of MintBox models
User-friendly
industrial design
Linus Tech Tips review of the hardware
The most unique feature of MintBox3 is its thermal design. MintBox3 can dissipate up to 300W from its 7.5 liter chassis without fans or any moving parts, by natural airflow resulting from the waste heat of the CPU and the GPU. Natural airflow cooling is silent, extremely reliable and requires no periodic cleaning or any other maintenance.
MintBox3 has an unusually rich set of features for a mini desktop – including up to 128 GB RAM, 6 storage devices, up to 7 4K displays, dual LAN, Wi-Fi, 9 USB ports, audio jacks on front and back and serial ports.
The user is welcome to open MintBox3 to add, remove and upgrade RAM, storage, add-on cards and even the graphics card. Opening MintBox3 is tool-free:
Press the top-bar and the clamshell door opens, revealing the RAM and disk cartridge
Pull the disk cartridge ejector to expose the NVMe and Wi-Fi adapter.
Installing devices in MintBox3 does not void the 5 year warranty.
MintBox3 ships ready-to-use with Linux Mint 19.3 "Tricia" Cinnamon pre-installed and no bloatware. User can easily install Mate edition, another Linux distribution, Windows 10 or another operating system.
Compulab and the Linux Mint team have spent long time optimizing the MintBox3 derivative of Airtop3 for the best user experience. Among the changes –
Extensive testing of Linux Mint 19.3 on MintBox3 to ensure full compatibility
Full Linux Mint branding including embossed and diamond cut Linux Mint logo as part of the housing, Linux Mint boot image and logo of the integrated OLED display
Qualifying a single thin 330W power supply eliminating the need for dual power supplies
Tuning BIOS and drivers for optimal acoustic "coil whine" mitigation to ensure quiet user experience
Reconfiguring audio output to default to front earphones and MIC jacks
Redesigned packaging for superior shock absorption during transport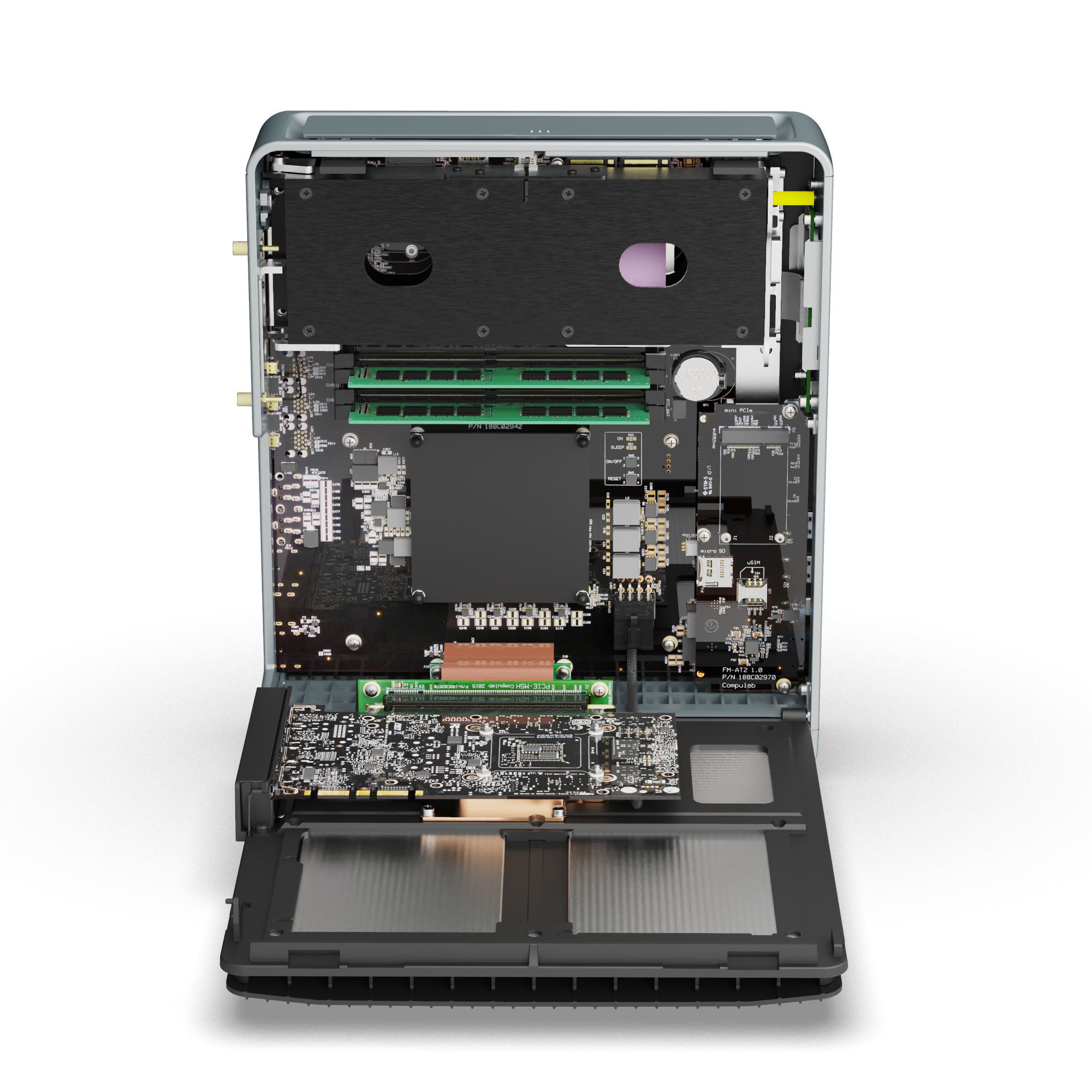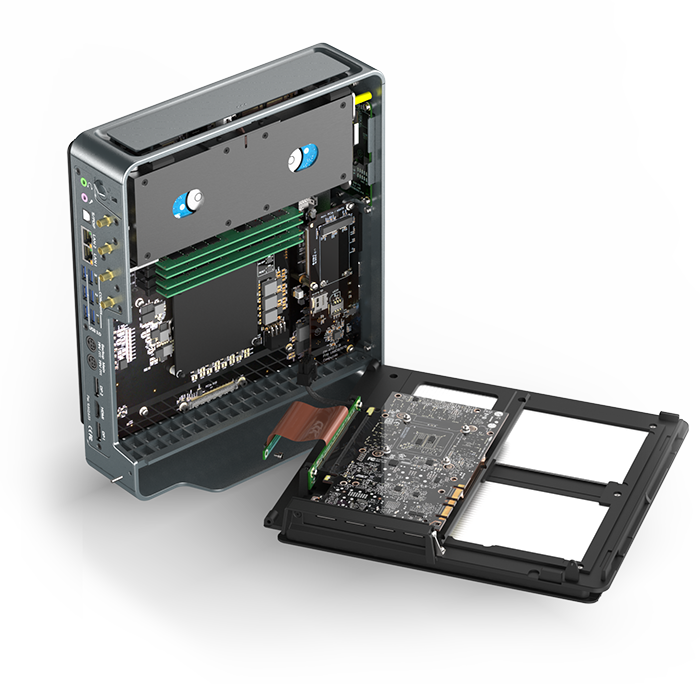 Industrial grade
Reliability
MintBox3 is based on the industrial-grade PC Airtop3. The motherboard is custom designed using embedded-grade components. The housing is all-aluminium. MintBox3 is passively cooled with no moving parts and requires no maintenance.
MintBox3 ships with a 5 year warranty.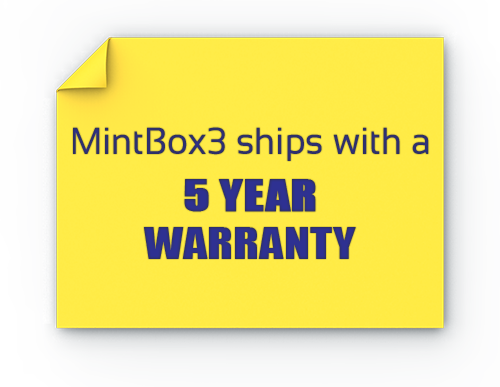 Compulab &
Linux Mint
partnership
MintBox3 is the result of a close partnership between Compulab and the Linux Mint team that goes back to 2012. The goal has always been to provide an out-of-the-box user-friendly Linux experience on a small and robust PC. As before, Compulab and the Linux Mint team worked together on product definition of MintBox3.
5% of the price of MintBox3 is donated to the Linux Mint team for continuing making Linux Mint better.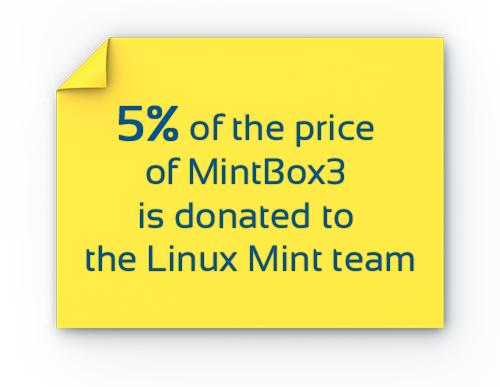 Models comparison
Error

You are trying to load a table of an unknown type. Probably you did not activate the addon which is required to use this table type.