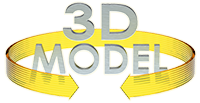 Built-to-order Airtop3 . No minimum order quantity is required.
You can customize it with a choice of CPU, graphics card, amount of RAM, storage devices, FACE Module and pre-installed operating system.
Compulab production starts assembling and testing the built-to-order Airtop3 after order is placed.
Each Airtop3 undergoes comprehensive functional test after assembly.
Built-to-order units ship within 3 weeks.
(more)
Note

Compulab will inform you within 3 business days from order about the actual lead time.
If actual lead time is not acceptable you can change or cancel the order.
Please choose options below and click add-to-cart.