Intel® Tiger Lake 11th Generation Core™ processor
Up to 4x Gigabit Ethernet ports
Up to 3 NVMe/SATA storage devices
Up to 12 USB 3.1 / 2.0 ports
Optional Wi-Fi/BT + LTE/5G modem
Optional Up to 12 RS-232 / RS-485 or 40+ isolated GPIOs
12V-56V DC power input
Side/bottom VESA / DIN Rail mounting
Standard size: 200 x 200 x35 mm
Advantages and capabilities
Tensor-I22 is a configurable fanless industrial computer that can be customized to suit perfectly for industrial automation, AI edge computing, robotics control, network security and monitoring, retail, media and more use-cases.
Tensor-I22 includes several customization options for added features in addition to the standard back-panel and internal interfaces, including:
+  Networking extensions:
 Additional 2 Gigabit Ethernet ports: RJ45 with option PoE or SFP+ for fiber optics
+  USB extensions:
Additional 4 USB 3.0 or USB 2.0
+  Storage extensions:
Additional option for NVMe/SATA M.2 Key-M of 2.5″ SATA disk
+  Industrial interfaces extensions:
Multiple RS-232, RS-485, CAN bus, or GPIO ports
+  Wireless connectivity extensions:
Additional M.2 Key-E for 2nd Wi-Fi/BT, M.2 Key-B for 2nd modem, or mini PCIe
+  AI acceleration modules:
Additional M.2 Key-M with enhanced heat dissipation for AI acceleration module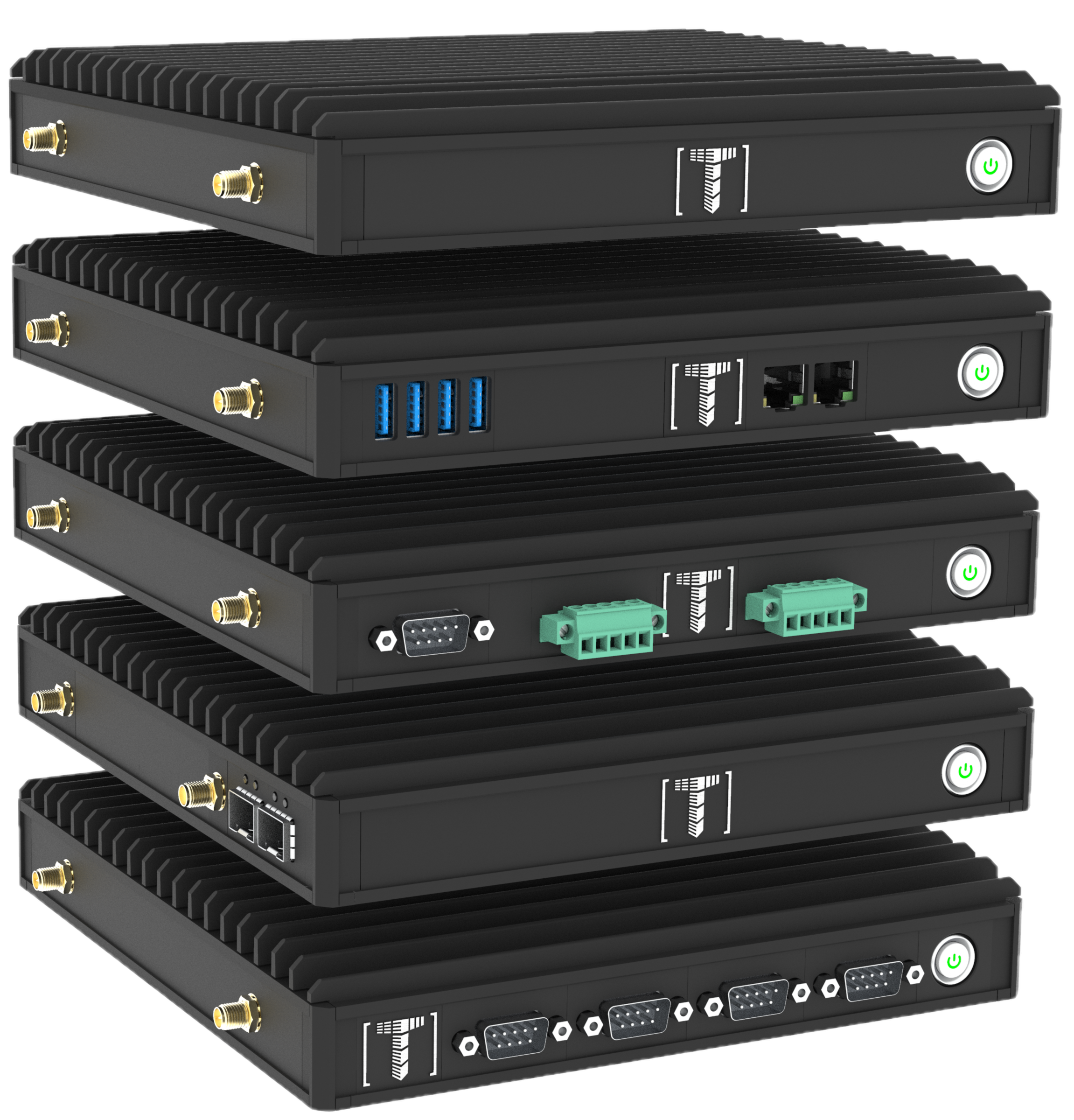 Long-term availability with a long-term warranty

Tensor-I22 is guaranteed to be available for at least 15 years.
With this longevity, it is possible to count on Tensor-I22 for the long run.

The highly reliable Tensor-I22 comes with an unconditional 5 year warranty, reinforcing Compulab's commitment to guaranteeing customer satisfaction over time.
Full-scale customization
Compulab offers a wide range of special customization options so that Tensor-I22 units can be shipped ready-to-use and according to customer's needs:
Custom operation system imaging
Customized BIOS menu default options
Branding: custom splash screen, company logo, documentation or packaging