The hardware and housing of fitlet2 are designed together from the ground-up to minimize size and maximize capabilities, durability and thermal performance.
fitlet2 measures only 112 mm by 84 mm.
It is one of the smallest full-featured PCs on the market.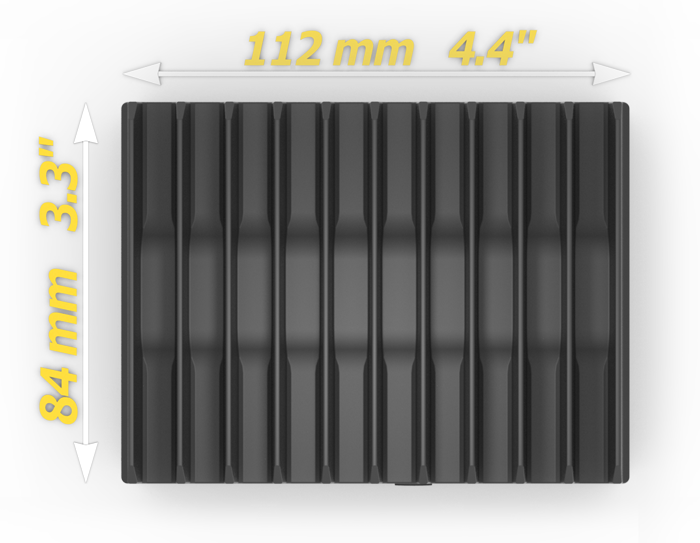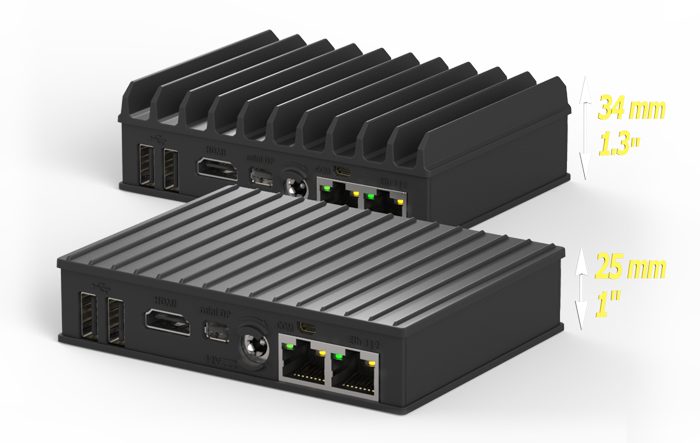 The low-power models are only 25 mm thick.
The performance models are 34 mm thick.
An industrial model and a single-board-computer are also available.
fitlet2 is designed as a metal 3D jigsaw puzzle with interlocking parts.
Yet, it is very easy to take apart
for installing RAM, storage and extension cards.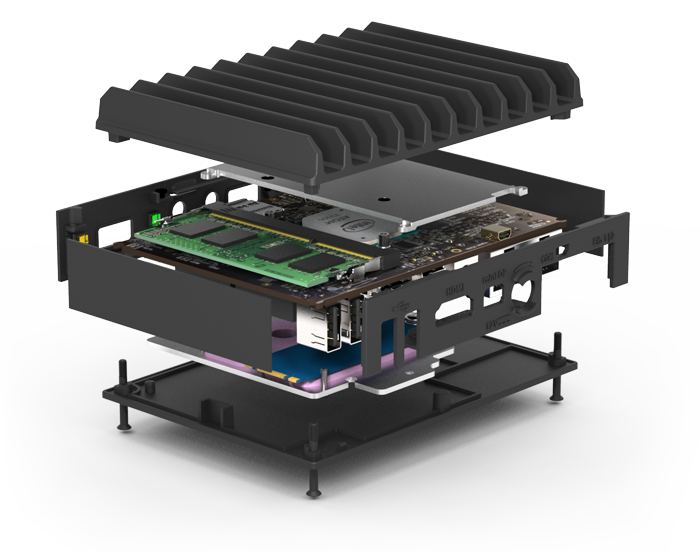 Surprisingly capable
for its size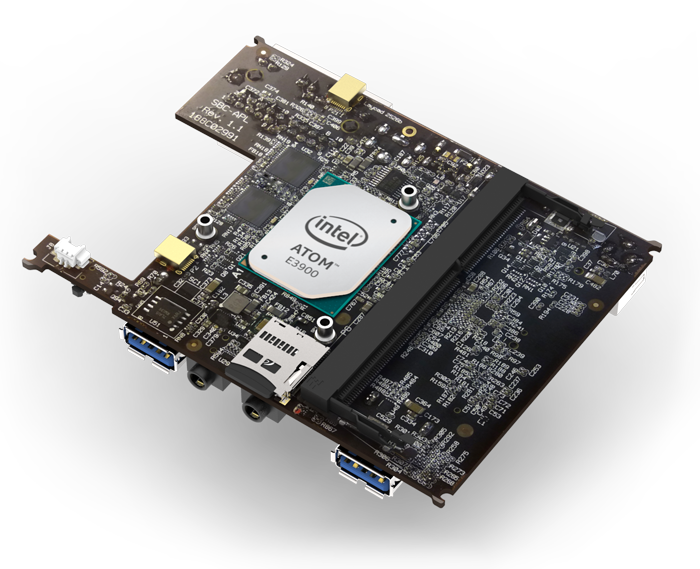 System
fitlet2 is based on quad-core Apollo-Lake Atom with up to 16 GB RAM.
It provides performance that not long ago required a Core CPU that could not be fitted in such a small passively-cooled footprint due to higher power consumption.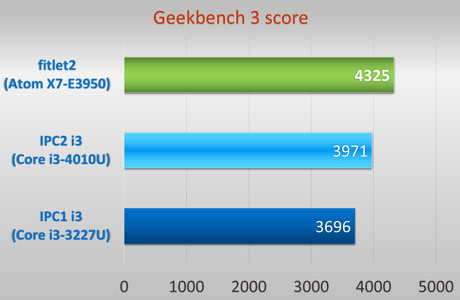 Extensions
Each IoT project is unique. A generic IoT gateway can rarely meet all special requirements.
That's why fitlet2 is made modular – these extra requirements are implemented with an extension module integrated seamlessly into the housing. This module is called FACET-Card (Function And Connectivity Extension T-Card).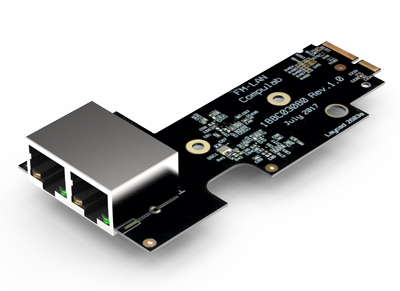 Compulab has a portfolio of often-requested FACET-Cards including:
Extra Gbit Ethernet ports
Extra USB ports
2.5″ HDD support
4G LTE modem in conjunction with WiFi
Power-over-Ethernet device (PoE PD)
More FACET cards are under development
The FACET-Card interface is public with already-designed FACET-Cards published for reference. This allows solution providers and 3rd parties to design their own custom FACET Cards.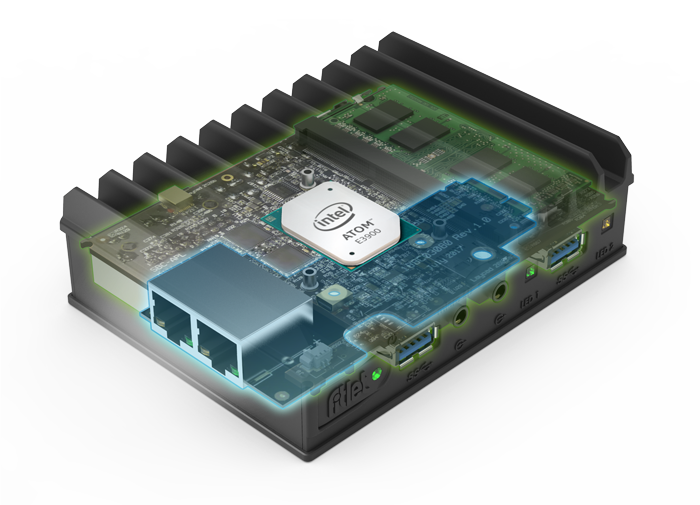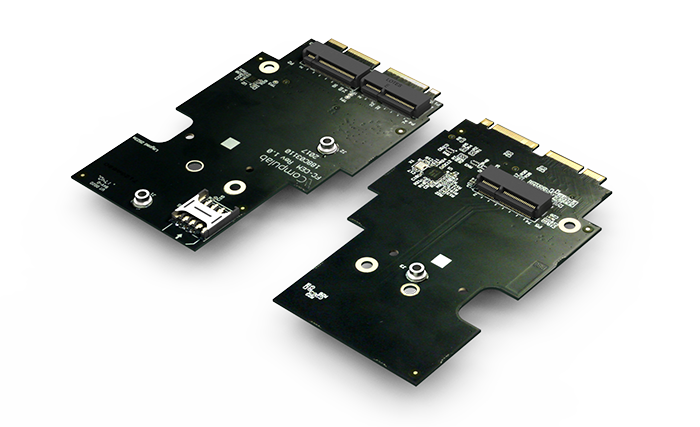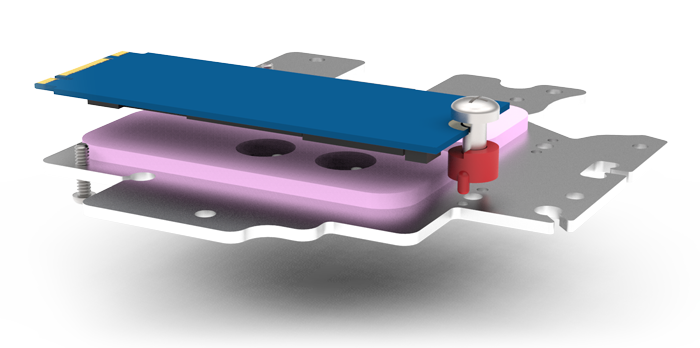 Storage
fitlet2 supports the following main storage devices
M.2 SATA provides high performance and large storage capacity
2.5″ HDD/SSD* is for extra capacity and for intensive write operations like video recording
eMMC on an M.2 module is a low-cost storage solution for price-sensitive applications
The storage device is attached using specially designed M.2 cooling plate that dissipates heat through the housing.
*2.5″ storage device requires a special FACET card and raised bottom cover
Networking
Versatile networking is a key requirement for an IoT gateway.
fitlet2 addresses this requirement with dual Gbit Ethernet ports (Intel I211) that can be extended to 4 ports and support for WiFi and 4G cellular modem working in conjunction.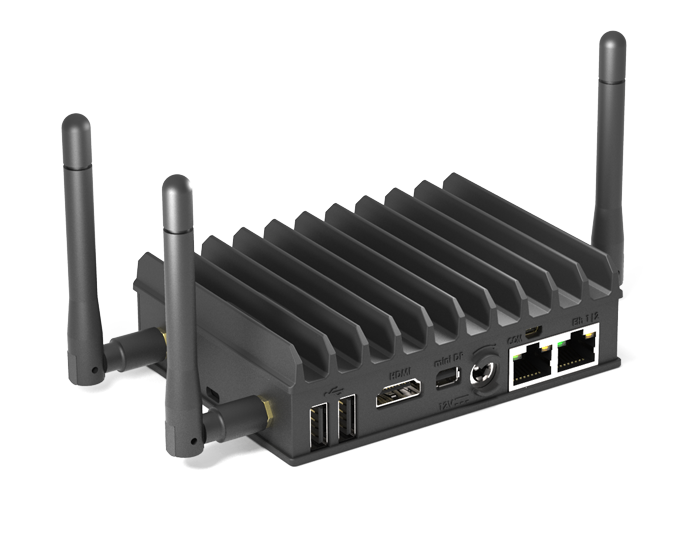 fitlet2 is designed with the failproof fanless cooling that Compulab pioneered and has been refining for over 10 years:
Make an all-metal housing that is thermally conductive, and design it for effective convection cooling
Thermally couple the hot-spots (CPU, SSD) to the housing
Use the housing as the heatsink
This design has several advantages over traditional cooling:
Improved reliability

fitlet2 has no moving parts so there is no wearing. Heat dissipation is by conduction through solid metal to a large exterior convection surface that is not subject to clogging.
There is no airflow near the internal components (fitlet2 has no vents) so corrosive reactions are negligible.

Since no aging takes place during fitlet2 operation, Compulab provides 5 year warranty for the product.

---
Operation in wide temperature range

filtet2 is the first miniature PC by Compulab able to operate at the full industrial temperature range of -40°C to 85°C.

With no fans that suffer significantly lower MTBF at extreme temperatures, and an embedded CPU rated for 125°C, fitlet2 reliability is not affected by the extreme temperatures.

---
Dust and humidity resistance

fitlet2 is fanless and has no vents. There is no airflow near the electronics components, no spinning blades, filters or tight airways to suffer from dust accumulation or clogging. This makes fitlet2 an ideal computer to be installed in dusty or humid environments that would have shortened the life of conventional-cooling computers.

---
Silent operation

With no moving parts, fitlet2 is perfectly silent, regardless of age and workload.

---
Long lasting maintenance-free device

fitlet2 requires no maintenance. There are no filters to clean, or compressed air cleaning to schedule, or periodic service to plan. fitlet2 can be deployed nationwide and just keep working for years until an upgrade is due.

---
The all-metal die-cast housing has excellent shock & vibration tolerance. This makes fitlet2 suitable for automotive, railways and industrial applications.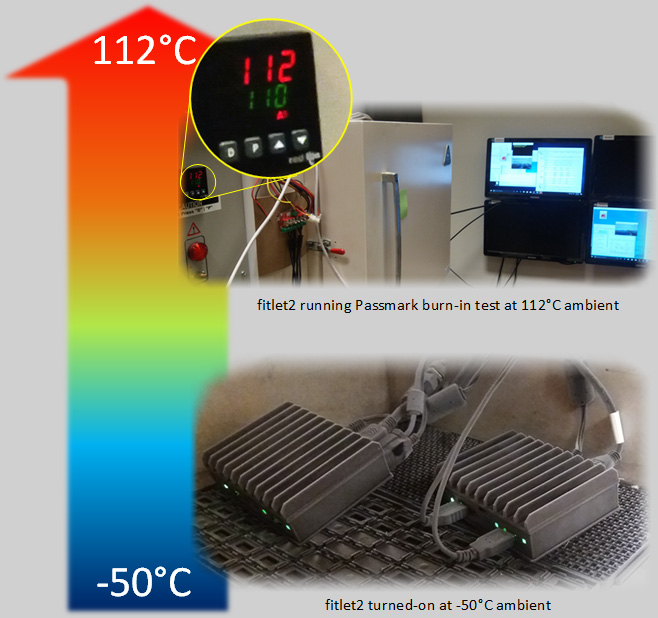 Made for real world
IoT design challenges

Warranty and longevity
Two major considerations in an IoT project are reliability and longevity. fitlet2 excels in both.
The embedded grade fanless design practically eliminates aging which allows us to provide unconditional 5 year warranty on fitlet2.
fitlet2 availability is 15 years. This ensures you will not have to redo integration, software adaptation and certification soon after completing the first cycle.
Mounting
fitlet2 is small enough to be easily and securely mounted in nearly any IoT scenario – in a cabinet, in a vehicle, inside a vending machine or just mounted behind a display, on the wall or on a furniture.
fitlet2 has the following mounting options:
including VESA and DIN-rail mounting.
VESA mounting bracket

The VESA mounting bracket is fastened to fitlet2 with 2 screws. It does not interfere with opening fitlet2 for service and does not have to be removed to do so.

Since fitlet2 is small enough to allow access to the VESA screws when mounted, installation is straightforward:

Mount fitlet2 on the VESA bracket
Mount VESA bracket to the wall or the display

The VESA mounting bracket has a large number of mounting holes to for extra installation flexibility.

---
Industrial top cover

The industrial top cover allows mounting fitlet2 without a bracket. It has VESA holes for bottom-up mounting as well as threaded holes for top-down mounting e.g. onto sheet metal.

The industrial top-cover doubles as a heatsink and is designed to be coupled directly to a metal body to dissipate heat through it.

---
DIN rail

fitlet2 has a ready DIN rail mounting solution that allows tool-free mounting / dismounting. Furthermore, the DIN rail mounting bracket does not interfere with opening fitlet2 for service.

---
Managing on/off state 

Once installed away from sight, fitlet2 can be power-cycled from a dash-board or an external controller using the remote power-button.

To protect against unintentional powering on/off events the built-in power button can be disabled mechanically.

The DC-power plug has twist-lock to protect against unintentional pull-out.

---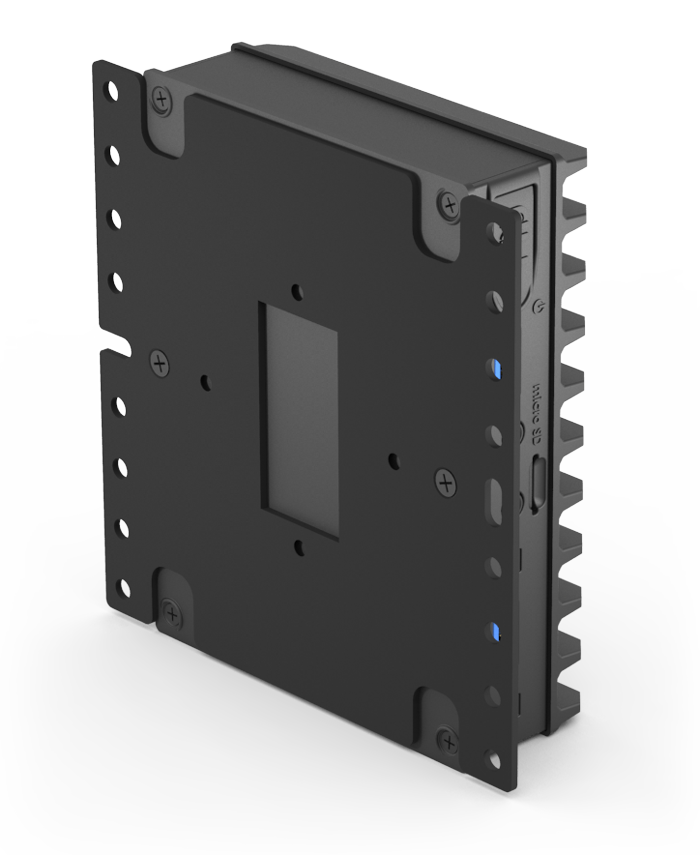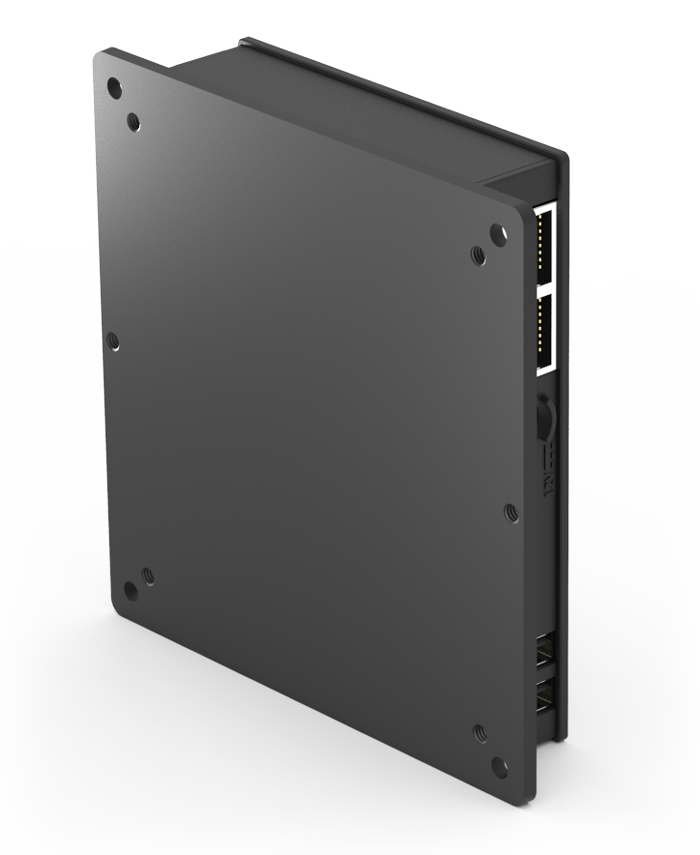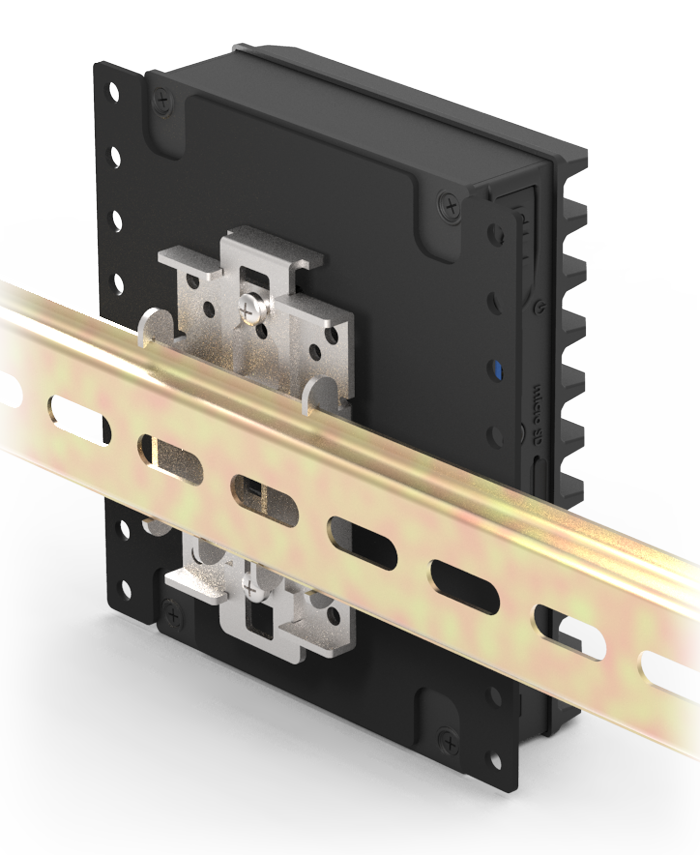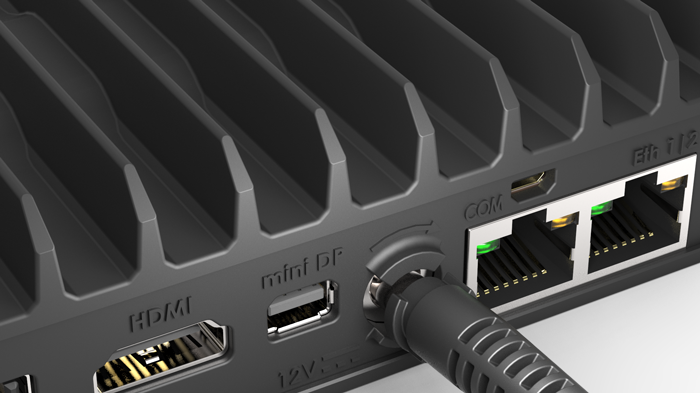 Power supply
fitlet2 can work at wide input voltage range of 9V – 36V.
It can also be powered by a PoE FACET Card or be powered through a custom FACET card.
The DC-plug has a special twist-lock for preventing unintentional pull-out power loss.
Compulab provides auxiliary power solutions for fitlet2, including
Services
Compulab designs, manufactures and supports fitlet2 under the same roof in its ISO 9001:2015 facility.
This allows Compulab to offer to its business customers unique value-added services for fitlet2, including:
Build-to-order fitlet2 in accordance with customer's specifications
Operating system and application imaging
Rebranding fitlet2 with customer's logo and color scheme incl. BIOS splashscreen
(learn more)
ODM services incl. hardware, firmware, OS and mechanical customization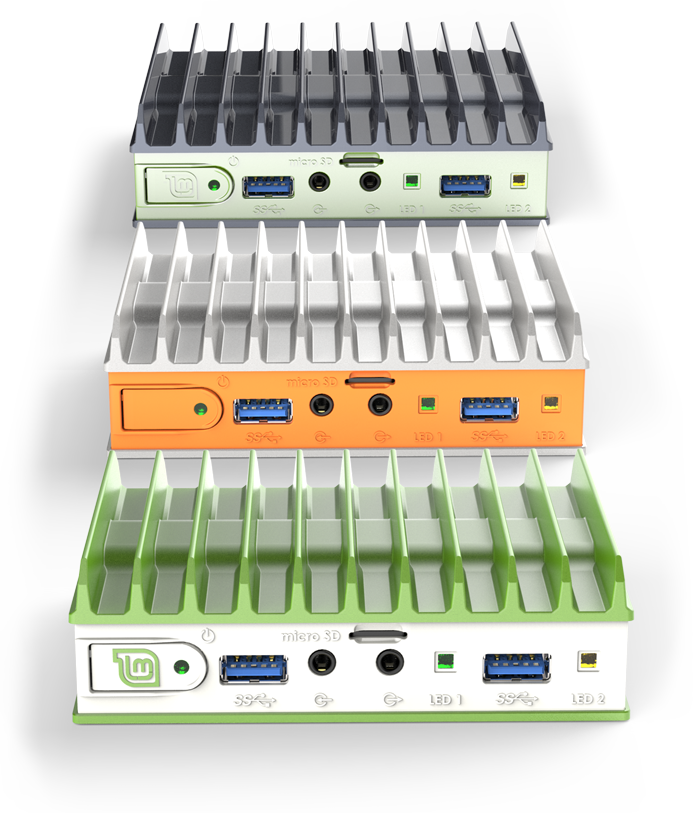 Our most
affordable mini PC
to date
fitlet2 is not only Compulab's most affordable mini-PC but it also exhibits the best performance to price ratio.
fitlet2 is available for purchasing through Compulab resellers, directly from Compulab or through Amazon.