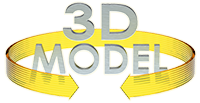 FC-CEM has B-Key M.2 socket 3042 (with connected SIM-card socket) + E-Key M.2 socket 2230 + M-Key M.2 socket 2280/2260
The common use case is for installing cellular modem + WiFi + M.2 SATA SSD. Note that each of these devices has to be purchased separately.
However, other M.2 cards can be installed.
If you are looking for miniPCIe modem please consider FC-PCI.
Notes:
FACET occupies both M.2 sockets of the SBC so it is not possible to install two storage devices or two WiFi cards.